South Korea's largest telco to build a smart city in Sri Lanka
2 min read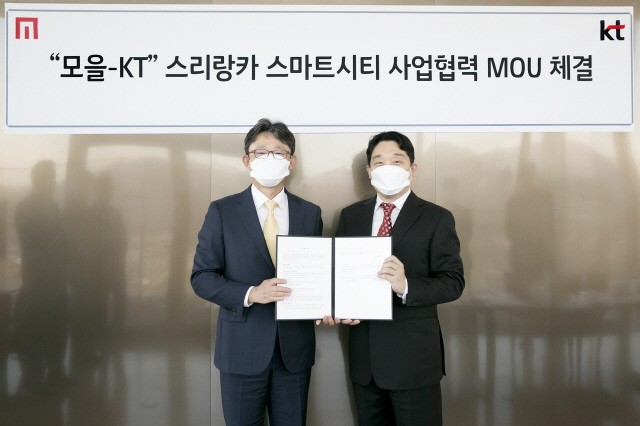 KT Corp., South Korea's largest telecommunications service provider announced it has entered into a memorandum of understanding (MOU) with a Sri Lankan business development company, Moeul Co., Ltd to develop a new smart city in a Colombo Suburb, based on artificial intelligence, the Internet of Things and big data.
Accrording to South Korean media reports, KT signed the MOU Sri Lanka-based Moeul at a signing ceremony held at KT's Gwanghwamun office building in Jongno-gu, Seoul. Moeul Co., Ltd with the participation of KT's head of corporate division Park Yoon-young and Moeul, CEO, Kim Yong-wook.
The two firms plan to develop a new science and technology city based on artificial intelligence, the Internet of Things and big data near Colombo City, and to develop the surrounding area including the underdeveloped international airport into residential and commercial areas.
In a telephone conversation with South Korea's Prime Minister Chung Sye-kyun, Sri Lanka's Prime Minister Mahinda Rajapaksa requested the support to increase South Korean investment inflows into Sri Lanka, as two countries seeks to enhance bilateral relationship.
KT plans to incorporate its smart city technologies such as AI-based data hubs and advanced technology-based intelligent mobility services such as drones, new renewable energy to increase energy independence, and IoT and big data-based smart energy platforms in building the city.
KT became the first telco to launch the world's first nationwide commercial 5G network on 3rd of April in 2019, after successfully showcasing the world's first trial 5G services at the PyeongChang Winter Olympic Games in February 2018.
In recent weeks, KT announced plans to expand its global data center business eyeing the demand the businesses opportunities in the arena which is expected to surge in the post-COVID-19 era.
It signed a MOU with a State Agency, Korea Overseas Infrastructure & Urban Development Corporation (KIND), to promote KT's data center business and smart city projects, globally.
"With this MOU signing, we will solidify the foundation for Korean ICT advancement in Sri Lanka," KT's Park Yun-young said commenting on the planned Smart-City project in Sri Lanka.
Meanwhile, Yong-wook remarked that the cooperation between the two companies would translate into the world's first opportunity to realize the future smart city dreamed of as a world-class company.
Re-established in 1981 under the Telecommunications Business Act, KT Corp., is the South Korea's largest telecommunications service provider. The State Pension fund holds around 13 percent stake in the company, being the single largest shareholders, while foreign investors owning 46.6 percent stake in the company.