September quarter earnings jump by 61%
1 min read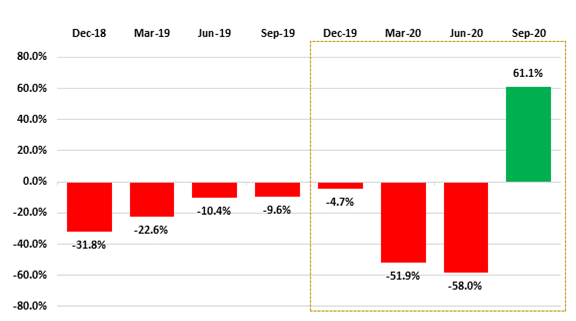 September quarter earnings of Colombo Stock Exchange (CSE) listed entities surged by 61.1% Year-on-Year (YoY) to Rs 73.9 billion as key sectors recovered in the quarter before the emergence of the second COVID-19 outbreak in the country, the FIrst Capital Research said in a report today.
The positive earnings growth in the September quarter ended the declining -streak of corporate earnings during the past few quarters since late 2018.
 Resilient performance in Food, Beverage & Tobacco, Transportation, Capital Goods, and Materials witnessed significant recovery on the back of the recommencement of economic activities.
In the quarter, Food, earnings in Beverage & Tobacco, Transportation, Capital Goods, and Materials sectors grew by 96% YoY, 578%YoY, 112%YoY and 154%YoY, respectively.
However, sluggish quarterly performance was witnessed on Consumer Services (-32%YoY), Banks (-17%YoY), and Real Estate (-37%YoY).
"Amid the prevalent situation, the hospitality industry continues to be adversely influenced, hence, Consumer Services sector earnings recorded a dip of 149%YoY. The banking sector witnessed a decline of 17%YoY largely driven by SAMP (-53%YoY) and COMB (-23%YoY) impacted by the increase in impairment. Real Estate sector earnings (-37%YoY) has slowed down due to the ongoing pandemic out of which OSEA witnessed a decline in earnings of 50%YoY chiefly due to the decrease in the sale of apartments by 81%YoY while rental income too dipped by 3%YoY," First Capital Said.