Donald K. Baxter Takes Over As New CEO of Ceylon Graphite Following the Retirement of Bharat Parashar from CEO and Chairman Roles
2 min read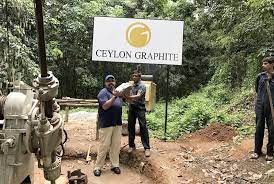 Ceylon Graphite Corp. ("Ceylon Graphite") (TSX-V: CYL) (OTC: CYLYF) (FSE: CCY) yesterday announced that Bharat Parashar has decided to retire as Chief Executive Officer and Chairman of the Board of Directors of the Company.                
The Board of Directors would like to thank Bharat for his dedicated leadership and achievements in setting up Ceylon's mining operations in Sri Lanka, and setting the Company on a path to supply key materials and technologies to meet the demands ofthe current lithium ion battery storage and EV revolution. Bharat will continue to advise the incoming CEO to ensure an orderly transition.
Donald Baxter, P.Eng. will step up from current role as Director to assume the Chief Executive role. Don is one of the premier graphite experts outside of China, having built one of only two producing graphite mines in North America. He has also been responsible for rapidly advancing the development of value-added graphite products, namely coated spherical purified graphite for the lithium-ion battery sector.
"I am excited to have this opportunity to step into the CEO role of Ceylon and continue to advance the Company, as the critical supply chains for lithium ion batteries evolve and the need is recognized to build processing capacity outside of China, as well as provide a secure high grade low cost graphite supply," Said Don Baxter, CEO. "The urgency of this has grown over the past year, and the move to secure materials which are critical to make enough batteries to supply almost every OEM, has accelerated significantly beyond earlier estimates."
Ceylon Graphite is a public company listed on the TSX Venture Exchange, that is in the business of mining for graphite, and developing and commercializing innovative graphene and graphite applications and products. Graphite mined in Sri Lanka is known to be some of the purest in the world and has been confirmed to be suitable to be easily upgradable for a range of applications including the high-growth electric vehicle and battery storage markets as well as construction, healthcare and paints, and coatings sectors.
The Government of Sri Lanka has granted the Company's wholly owned subsidiary Sarcon Development (Pvt) Ltd. an IML Category A license for its K1 mine and exploration rights in a land package of over 120km². These exploration grids (each one square kilometer in area) cover areas of historic graphite production from the early twentieth century and represent a majority of the known graphite occurrences in Sri Lanka.