Verité Research Proposes re-introduction of WHT coupled with taxes on Wealth and Negative Externalities as a Way Out of Debt Crisis
1 min read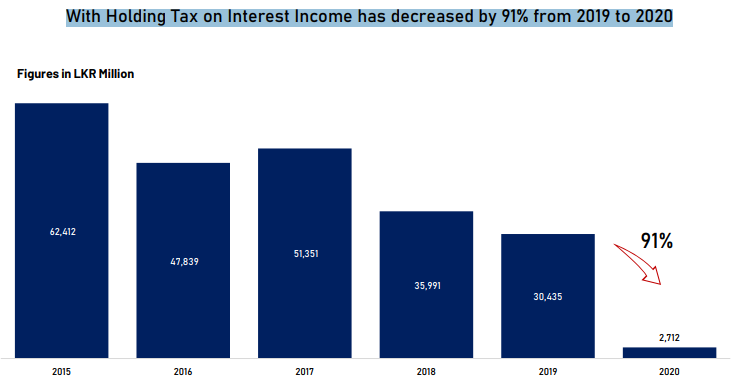 Colombo-based Think Tank, Verité Research-backed re-introduction of With Holding Tax (WHT) on Interest Income, Property Taxes and Taxes on Negative Externalities in the Budget 2022 to steer the country out of the Debt Crisis.
The Think-Tank proposed the WHT to be re-introduced on Interest
Income from January next year and WHT to be expanded to cover fees
and other from January 2023 onwards.
Due to the removal of WHT in 2019, it pointed out that the government lost a record Rs. 40 billion in tax revenue.
WHT which was introduced in 2015, has generated Rs.30-60 billion per annum over the years. However, the banking sector was heavily against the tax and it actively lobbied against the tax.
In addition, Verité also proposed a property tax with a potential to generate Rs.85 billion to the government coffers.
"The Land Valuation Indicator has increased by 55.1% in comparison to the base year, 2017. Sri Lanka can implement a property tax based on
annual value increases. A target revenue of 0.5% of GDP would generate a revenue of 85 billion, " It proposed.
As environmental taxes, it urged the government to consider an annual tax on vehicle emissions, tax on landfill sites, taxes on single-use plastics, review charges/royalty for extraction of natural resources such as quarries, sand mining, logging, etc.
Among other proposals, Health-related consumption taxes was mooted. It asked the government to consider an increase in the tax for Sugar and Sugar-sweetened beverages, with the introduction of a new tax on high sugar foods and imported meat products.