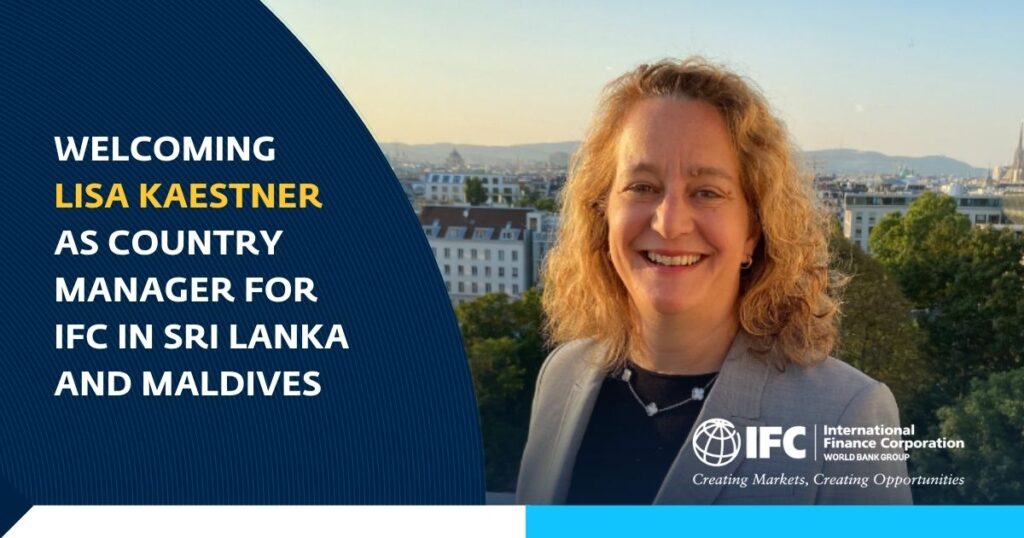 IFC has appointed Lisa Kaestner as the new Country Manager for Sri Lanka and Maldives. Based in Colombo, Kaestner will focus on diversifying and growing IFC's portfolio while helping strengthen private sector in both countries and promoting inclusive growth.
The appointment was announced by IFC's Vice President for Asia and the Pacific, Alfonso Garcia Mora, who along with IFC's Regional Director for South Asia, Hector Gomez Ang, has arrived in Sri Lanka for meetings with government and private sector representatives.
"Spurring private sector-led growth is vital to Sri Lanka's future," Garcia Mora said. "IFC is committed to catalyzing the private sector and has played a strong countercyclical role in the country since the onset of the pandemic in March 2020 by investing over $450 million in just 18 months, providing much needed long- term capital and trade financing to help sustain businesses and preserve jobs."
A US national, Kaestner joined IFC in 1999 as the resident representative in Georgia, after working with several non-profit development organizations in the Caucasus region. With over 20 years of experience with the World Bank Group, Kaestner led IFC's advisory services in Eastern and Southern Africa, supporting reforms and policy implementation for private sector-led growth across a range of sectors from agribusiness, tourism, housing, ICT, and manufacturing.
"Lisa Kaestner brings a wealth of experience and knowledge to her new role, which will prove invaluable in maximizing IFC's continuing support and commitment to Sri Lanka and Maldives," said IFC's Regional Director for South Asia, Hector Gomez Ang. "Her appointment comes at a crucial time as both countries work toward a resilient recovery."
Through her work at both the World Bank and IFC, Kaestner also supported private sector-led growth through trade development, innovation, and entrepreneurship in the Eastern Europe and Central Asia. As an economist, she contributed to IFC's investment and advisory projects in the region, particularly in areas of strategy, economic analysis, delivering development impact.
Commenting on her new role, Kaestner said, "Sri Lanka and Maldives have demonstrated their resilience against multiple headwinds over the years. Both countries have immense potential—especially in terms of human capital. I look forward to continuing and deepening IFC's strong partnership with the private sector and the governments of Sri Lanka and Maldives in supporting social and financial inclusion, strengthening innovation and growth-enabling sustainable infrastructure as well as in promoting a resilient recovery from the pandemic."
Kaestner holds a Master's degree in Public Policy and Economics from Princeton University. She succeeds Amena Arif, who has taken on a new role in IFC East Africa, after successfully serving as the Sri Lanka and Maldives Country Manager for five years.
With over 50 years of operations in Sri Lanka, IFC has played a significant role in the country's growth story by supporting small businesses, tourism, women, including women entrepreneurs, infrastructure, trade finance, and agribusiness. IFC has invested over $1.9 billion across sectors including infrastructure, telecom, tourism, energy, and health, while providing cutting-edge solutions and expertise to diverse clients across the country.
In Maldives, IFC has been supporting the private sector since 1983—with over $200 million in investments so far.
IFC—a member of the World Bank Group—is the largest global development institution focused on the private sector in emerging markets. We work in more than 100 countries, using our capital, expertise, and influence to create markets and opportunities in developing countries. In fiscal year 2021, IFC committed a record $31.5 billion to private companies and financial institutions in developing countries, leveraging the power of the private sector to end extreme poverty and boost shared prosperity as economies grapple with the impacts of the COVID-19 pandemic.