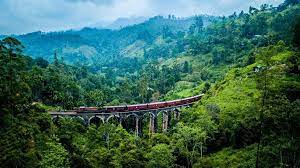 Sri Lanka's tourism earnings reached a new post-pandemic high of $314.5 million in February before Ukraine-Russia hits the arrivals.
The Island Nation attracted 96,507 tourists in the month led by 15,340 tourist arrivals from Russia and Ukraine was the sixth-largest market source market for the country with 5,288 arrivals.
According to Forwardkeys, Sri Lanka had occupied the 10th position (with
a share of 7%) among the top 20 most booked destinations by Russians for the period of March to May 2022. However, the continuity of this growth momentum will be stalled for a prolonged period of time due to the current crisis in Ukraine. India and the United Kingdom accounted for 13% and 11% of the total traffic respectively.
However, SLTDA said that Russian tourists continue to visit Sri Lankan, which may be pre-booked arrivals, despite Western sanctions on Russian Banks, depreciation of the Russian Rouble, and suspension of VISA and Master Cards operations for Russians.

"A closer look at the tourist arrivals from Russia throughout the month of February till the first week of March depicts an optimistic trend as it reveals that Russians still continue to travel to Sri Lanka. It can be assumed that these are pre-booked visits given the current situation of the crisis. However, with the current air accessibility between Russia and Sri Lanka and other favorable factors, Sri Lanka will remain as a favorite destination for Russians though the numbers will definitely decline," it said.
In the first two months of the year, tourism earnings grew to $582.7 million from $16.4 million a year back, and slightly below last year's tourism earnings of $682.4 million.
The SLTDA expects tourist arrivals to the country range from 529,808- 1,046,282 this year.