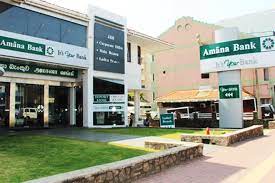 Amana Bank crossed the Rs. 100 billion milestones in Customer Deposits as of Q1 2022 thereby becoming one of the fastest Licensed Commercial Banks to reach this mark within a very short period.
The Bank's accelerated growth in deposits is owing to the wide and growing acceptance of its people-friendly banking model among all Sri Lankans. As at end of Q1 2022, the Bank's Customer Deposits stood at Rs. 105.7 billion, up by 10%, compared to the 2021 closing figure of Rs. 96.2 Billion.
In 2021, the Bank was also bestowed the award for Fastest Growing Retail Bank in Sri Lanka by Global Banking & Finance Review, while also being recognized as one of the Top 50 Strongest Islamic Bank's in the World by The Asian Banker.

"We are honoured to have crossed this milestone in such a short period of time, which
testifies to the acceptance of our people friendly banking model, and the attractive returns paid by
the Bank on a profit sharing basis. We are thankful to our customers for the continued trust and
confidence placed in us" Commented Amana Bank's Chief Executive Officer Mohamed
Azmeer.

Further the Bank's Asst. Vice President – Deposits & Digital Innovation Arshad Jamaldeen said "Over
the years Amana Bank has introduced strong array of deposit products including the award winning
'Savings Plan' and 'Flexi Term Investment'. The customer propositions 'Prestige', 'Vantage' and 'Expat Gold' ensures prioritized service and personalized engagement through dedicated relationship management and value added benefits, resulting in a lot of attraction and loyalty, which is testified by our growth numbers,"
Amãna Bank is the country's first and only Licensed Commercial Bank to operate in complete harmony
with the globally growing non-interest-based people-friendly banking model. With the mission of
Enabling Growth and Enriching Lives, the Bank reaches out to its customers through a growing network
of 33 branches and 20 Self Banking Centres spread across the country while having access to 5400+
ATMs for withdrawals and 850+ Pay&Go Kiosks for real-time deposits. Customers can also benefit from
an array of customer conveniences such as Internet & Mobile Banking, 24×7 Cash Deposit Machines
and Banking Units Exclusively for Ladies.

Amana Bank PLC is a stand-alone institution licensed by the Central Bank of Sri Lanka and listed on the
Colombo Stock Exchange with Jeddah-based IsDB Group being the principal shareholder has a
29.97% shareholding of the Bank. The IsDB Group is a 'AAA-rated multilateral development financial
institution with a membership of 57 countries. In September 2021 Fitch Ratings Sri Lanka affirmed the
National Long Term Rating of Amãna Bank to BB+(lka) with a Stable Outlook. Amãna Bank does not
have any subsidiaries, associates, or affiliated institutions.