Sri Lanka's Banking sector asset quality to come under pressure in 2Q and 3Q
2 min read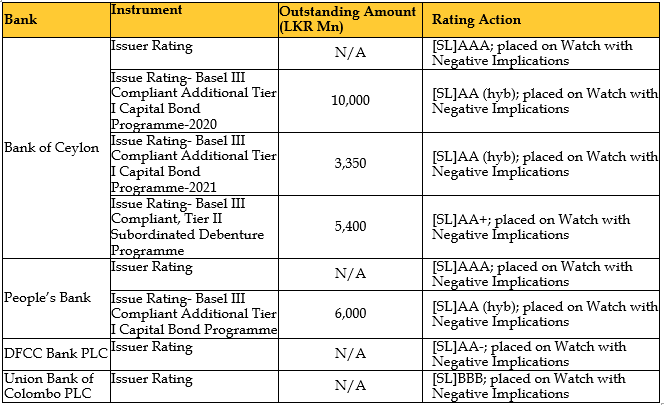 ICRA Lanka expects the current challenging operating environment to exert pressure on the asset quality levels of Sri Lanka's banking sector this year.
"Overall GNPA (Gross Non-Performing Asset) levels of the LCB (licensed Commercial Bank) sector improved to 4.27% by Dec-21 from the peak levels of 5.27% in June-20. However, the same is expected to deteriorate over in Q2 and Q3 CY2022 as the current operating environment has affected several segments of the economy, including the SME sector," the Rating Agency said.
ICRA Lanka this week placed the ratings of Bank of Ceylon, People's Bank, DFCC Bank PLC, and Union Bank of Colombo PLC on Watch with Negative Implications.
It noted that Sri Lanka's weakening sovereign credit profile would affect the funding flexibility of the local LCB sector, as the banks are increasingly constrained in terms of foreign funding. The heightened counterparty risk would also affect the trade-related activities of the banks.
ICRA Lanka's rating Watch with Negative Implications also factors in the core margin compression in CY2022 due to the sharp increase in systemic interest rates.
In addition , ICRA Lanka envisages marked-to-market losses on the debt instruments (primarily treasury securities) held at fair value, due to this sharp rate increase. From ICRA Lanka rated LCBs, DFCC Bank PLC and Union Bank of Colombo has placed the majority of its treasury investments at fair value through other comprehensive income; and therefore, will have a larger impact on their capitalization profiles, while Bank of Ceylon and People's Bank have recognized the bulk at amortized cost.