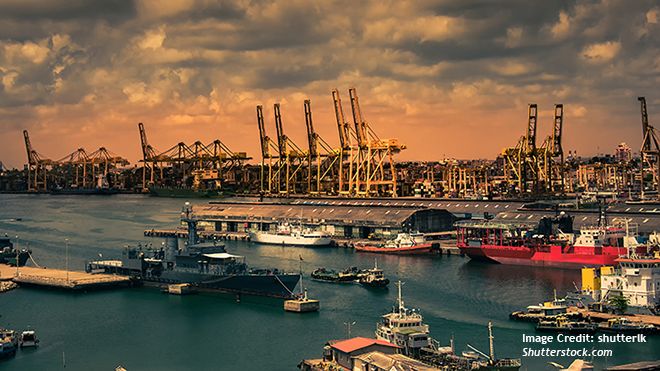 The Management of Sri Lanka Ports Authority (SLPA), the terminals Colombo International Container
Terminals Ltd (CICT), South Asia Gateway Terminals (Pvt) Ltd (SAGT) together with CASA (Ceylon
Association of Shipping Agents) assure global Shipping Lines and Operators of containers and
Conventional services of operations are being carried out uninterrupted and at normal and expected levels
in the Port of Colombo despite the economic and political crisis situation in the Country.
Further, continued and unhindered operations at the Port are also receiving attention at the highest level of the Government of Sri Lanka consequent to the appointment of a new Prime Minister last week.

The Port of Colombo (POC), being identified as an essential service, catering to vital transshipment,
exports, imports, and related logistics services which are the backbone of the economy of Sri Lanka, has
received and is assured of an uninterrupted supply of electricity and fuel to maintain the demand
required. Shipping services are essential service exports and contribute immensely to the Sri Lankan
economy and hence the shipping community stresses the importance of Colombo as a regional
transshipment hub.
Inter-terminal trucking between terminals and transport for logistics services to move domestic laden
and empty containers are receiving priority and connections for transshipment containers are able to
make their targeted on carriers without misses. Clearance of imports and export shipments are moving
at desired levels notwithstanding delays in the clearance of some import cargoes due to a shortage of
foreign currency.

The Port trade unions acknowledge the vital importance of the sector for economic sustenance and
revival of the Country and the Management of SLPA and the private terminals, CICT and SAGT are
confident that they would be in a position to meet the economic challenges and ensure service delivery
to customers.

In terms of performance, the POC continues to grow and figures for the first four months up to April
2022 reflect an overall growth in volumes of 100,356 TEU ( 4.3% ) and in transhipment 92,099 TEU (5%)
over the same period of 2021 – recording steady progress while continuing to play a pivotal role as a
regional transhipment hub with strategic intent and plans being developed to expand capacity and
services to evolve to a regional shipping centre second to none.