Ambassador Chung Announces New USDA Food Aid
2 min read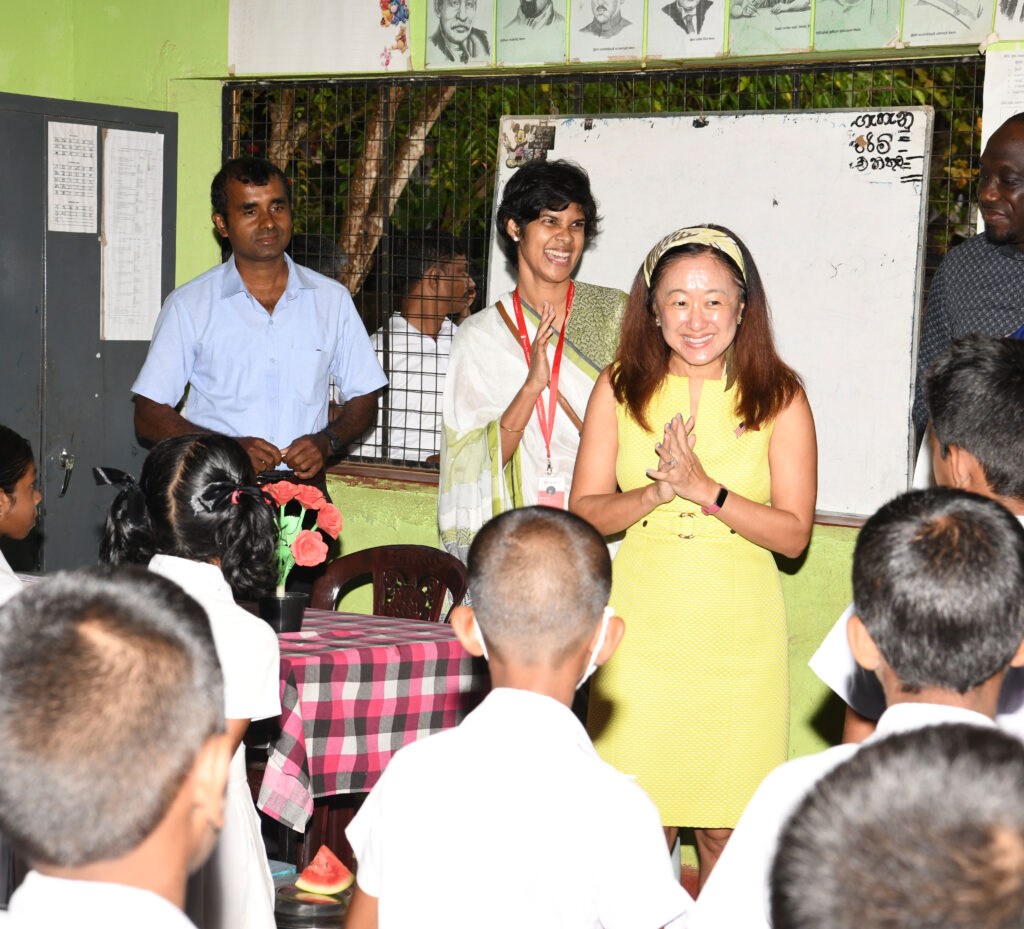 Ambassador Julie Chung announced today the recent arrival of 770 metric tons (MT) of fortified rice and 100 MT of fortified vegetable oil through the U.S. Department of Agriculture (USDA) Foreign Agricultural Service (FAS) "McGovern-Dole Food for Education Program."  Since 2021, USDA food aid has provided protein supplements using yellow split peas and Alaskan pink salmon to over 95,000 children in 835 primary schools distributed over seven districts (Nuwaraeliya, Badulla, Monaragala, Rathnapura, Kilinochchi, Mullaitivu, and Trincomalee).  Ambassador Chung made the announcement during a visit to the Guruaragama Primary School to observe a school feeding program supported by the United States government assistance. 
The U.S. also supported construction of new latrines at the school.  Minister of Education Susil Premajayantha, Governor of Sabaragamuwa Province Hon. Tikiri Kobbakaduwa, and USDA/FAS Senior Regional Agricultural Attaché Mariano J. Beillard joined Ambassador Chung. 
In partnership with Save The Children and alongside the Sri Lankan government and local communities, USDA/FAS is implementing the Promoting Autonomy, Literacy, and Attentiveness through Market Alliances (PALAM/A) project in Sri Lanka. This US $27.5 million initiative began providing food shipments at the height of the pandemic and will be completed this year. The project, which includes monitoring and oversight provisions, improves literacy and nutrition while reducing short-term hunger of school-age children. More broadly, the United States government has provided food assistance to nearly two million Sri Lankan school children over the past year.
Ambassador Chung met with teachers and parents as well as school children. As she toured the school's classrooms, Ambassador Chung said, "I am honored to join Minister Premajayantha and to see first-hand how Sri Lanka's school feeding program is benefiting children's nutrition and education, and to witness the positive impact of the United States government's assistance in this vital effort. This is the second school I've visited in a week that is receiving food assistance from the United States – last week I was at St. John's Maha Vidyalaya in Colombo North where USAID is working with the World Food Program to support a US $7 million school feeding program. The U.S. has worked alongside the people of Sri Lanka for 75 years in a strong, enduring, and successful partnership, and these children eating a healthy morning meal – through food assistance provided by American citizens – really demonstrates how partners support each other in difficult times."
This year marks the 75th anniversary of U.S. – Sri Lankan diplomatic relations, a rich history defined by our people-to-people relationships, the progress we have achieved together, and the close partnership that will assist Sri Lankans to build a brighter future.