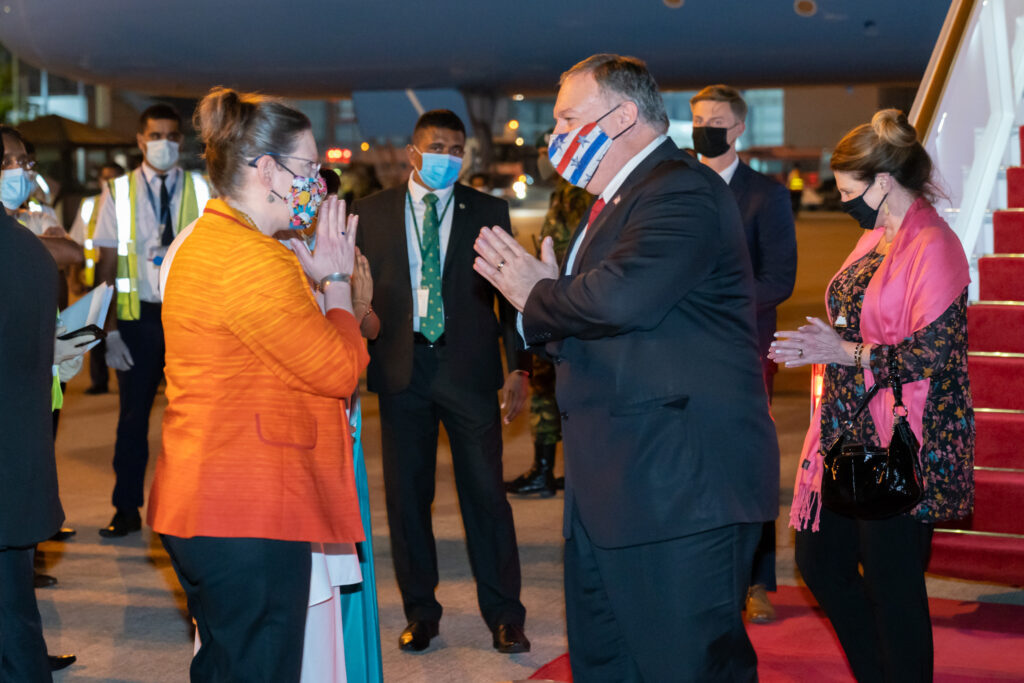 The United States (U.S.) Secretary of State, Michael R. Pompeo arrived in Colombo, Sri Lanka yesterday for a two-day visit after completing his visit to India.
Pompeo is scheduled to meet with President Gotabaya Rajapaksa and Foreign Minister Dinesh Gunawardena during the visit.
According to the U.S. Department, Sri Lanka's importance as an Indo-Pacific partner on security and economic issues would be highlighted in the discussions.
Further, it noted Pompeowould also emphasize U.S.' commitment to Sri Lanka's sovereignty and encourage progress on governance and reconciliation priorities.
Further, he is also expected to raise concerns on China's growing influence in the Island nation.
"Thank you for the warm welcome, @USAmbSLM. I'm excited to be here in Colombo. I'm proud of the work @USEmbSL does to strengthen our ties with the government, businesses, and people of Sri Lanka and look forward to expanding on those efforts during my visit," Pompeo said in a twitter messages after arriving in Colombo yesterday.
The U.S. is Sri Lanka's single largest export market and Sri Lanka's largest trading partner. In 2019, Sri Lanka exported more than $2.7 billion of goods to the U.S., of which over $1.8 billion of which were ready-made garments.
"The United States also views Sri Lanka as an important customer for American-made goods. The U.S. exports goods into many sectors of the Sri Lankan economy, from advanced machinery to agricultural products. Both the United States and Sri Lankan governments are working to expand American exports and investment into Sri Lanka," the State Department stated.