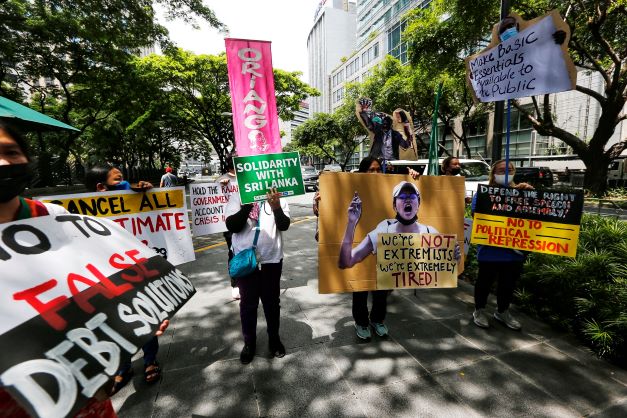 Activists gathered in Makati City today to express solidarity with the people of debt-burdened Sri Lanka as they continue to suffer from acute fuel and food shortages and warned that the Philippines and other
Asian countries also risk a similar crisis. Simultaneous actions were also held in Sri Lanka, Pakistan, Nepal, and Indonesia.

"We stand by the Sri Lankan people in the exercise of their rights to free speech and assembly. Teargas, water cannons, arrests, increased military surveillance and questioning of civil society leaders in response to people's opposition have no place in a state that claims to be a democracy," said Lidy Nacpil, coordinator of the Asian Peoples' Movement on Debt and Development (APMDD) as she stressed the appeal for international support in the face of the Sri Lankan people's worsening plight and denouncing the strong-arm responses of the Sri Lankan government to protests.

"Sri Lanka is a cautionary tale for the Philippines," said Nacpil, "Through this action, we highlight the many years of debt dependence, faithful compliance with lenders' conditionalities, corruption and mismanagement which eventually brought Sri Lanka to the point of debt default. We are dangerously on the same path as public debt and debt service payments mount."

As of end-July, the Philippines' debt stood at a historic PhP12.89 trillion, which includes recently incurred debts of PhP96.1 billion in the first month of the Marcos presidency. Total debt service in 2022 amounted to PhP1.35 trillionor 26.8% of the total budget of PhP5.024 trillion. Next year, debt service is projected to rise to 29.8% of theproposed budget, or PhP1.6 trillion, "'the highest yearly debt servicing on record,'" according to analysts.

Sri Lanka's borrowings went heavily into large scale infrastructure projects which have gone bust under the
pandemic. Its debt-to-GDP ratio rose from 42% in 2019 to 104% in 2021. Up to $8.6 billion in debt payments fall due this year, but the country has less than $1.94 billion in its reserves. Now in bailout negotiations with the International Monetary Fund, Sri Lanka faces austerity conditionalities typically
attached to IMF lending programs. These include privatization of social services, cuts in public spending and regressive taxes such as Value Added Tax. Fiscal belt-tightening remains embedded in IMF debt restructuring despite experience showing that it heavily impacts the poor and marginalized, and further deepens inequality.

Nacpil further highlighted the heavy impacts borne by Sri Lankan women. "One in four households in Sri Lanka is headed by women, of which half are widows, and face persistent difficulties of juggling family responsibilities with paid and informal, precarious work, discriminatory attitudes toward women, limited access to finances, and inadequate social protection, among others." The toll on women and Sri Lankan working people will even be more severe.

"Sri Lanka, the Philippines, Pakistan and many other global South countries share common problems that go beyond borders. And we are made to follow rules in policy-making arenas where we are not at the table. This has to stop," Nacpil stated. "International solidarity enables us to be heard and amplify the issues and demands that would otherwise simply be ignored."