World Bank assures continuous support for Sri Lanka's Reform Program
2 min read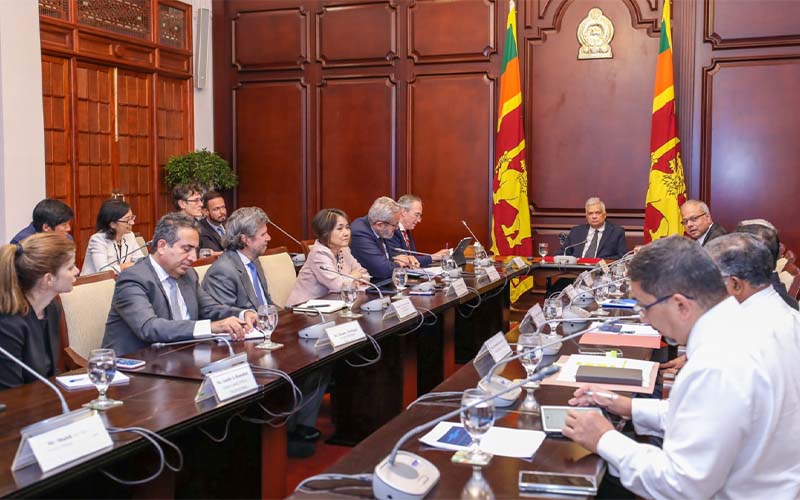 Representatives from the World Bank assured that the World Bank will continue to support Sri Lanka's development reforms program.
They stated that the World Bank will provide technical assistance in the drafting of laws for development policy operations, as well as work to provide additional guidance and support regarding the use of international media and welfare benefits.
The delegation including the Vice President of the South Asian Region of World Bank, Martin Raiser, met President Ranil Wickremesinghe at the Presidential Secretariat today (28).
The World Bank Development Policy Operational Program was fully investigated and the President and World Bank representatives commented on its progress.
Improving financial supervision and credit management, improving tax administration, sovereign-financial sector linkages and reducing systemic risks; maintaining stability and confidence in the banking sector, restructuring and divestment, reducing policy uncertainty and increasing competitiveness in the economy, mobilizing private capital and competition in the broadband market, strengthening the social security institution, delivery system and targeting was discussed.
World Bank's Country Director for Sri Lanka Faris H Hadad-zervos, World Bank's Country Manager for Maldives and Sri Lanka Chiyo Kanda, International Finance Corporation(IFC) Country Manager Sri Lanka and Maldives Alejandro Alvarez de la Campa, Advisor of the World Bank in Sri Lanka Husam Abudagga, World Bank representatives, President's Senior Advisor on National Security and President's Chief of Staff Sagala Ratnayake, President's Secretary Saman Ekanayake, Finance Ministry Secretary Mahinda Siriwardena, President's Senior Advisor on Economic Affairs Dr. R.H.S. Samaratunga, Central Bank Governor Nandalal Weerasinghe and other officials participated in the event.