U.S. Treasury Secretary Yellen to push moves to conclude a debt treatment for Sri Lanka
2 min read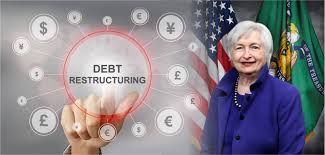 U.S. Treasury Secretary Janet Yellen will push this week for urgent resolution of requests by Zambia and Ghana for restructuring of their sovereign debts, and moves to conclude a debt treatment for Sri Lanka, Treasury said on Monday, Reuters reported.
Yellen, who is slated to meet counterparts from around the world during this week's meetings of the World Bank and International Monetary Fund, is also pushing for concrete steps to speed up the overall debt relief process and make it more transparent, a senior Treasury official told reporters.
"During the week, Secretary Yellen will … maintain urgency for the speedy resolution of Common Framework cases like Zambia and Ghana to remove debt overhangs and foster growth in developing countries," Treasury said. Sri Lanka, Zambia and Ghana have already defaulted on their overseas debt and are working towards debt reworks with creditors.
The senior Treasury official said it remained unclear if there would be progress on Zambia's specific request this week, adding, "that's in some ways up to China."
Yellen and other G7 officials have often criticized China's slow movement on specific debt treatment cases under the Group of 20 Common Framework, although they have welcomed China's recent agreement to provide financing assurances for Sri Lanka, which was not eligible under the G20 plan. "Progress can sometimes be much more halting and frustratingly slow than anyone would want it to be, but progress is still progress," the senior official told reporters, noting that China's financing assurances for Sri Lanka paved the way for an IMF lending package.
Yellen will discuss the debt issue in separate meetings with officials from the G20 group of major economies and the Global Sovereign Debt Roundtable on Wednesday, the official said.
The official expressed hope the global sovereign debt roundtable meeting on April 12 would yield "actual accomplishments," the official said. "What we're looking for is concrete steps that will make the process operate faster, and in a more transparent way. And something that debtor countries can look at and understand more clearly … how long things will take."
A record number of developing nations are at risk of a debt crisis, with ballooning inflation, escalating borrowing costs and a strong dollar jacking up the cost for borrowing countries to repay loans and raise fresh money.
IMF Managing Director Kristalina Georgieva last week also took aim at China, saying she had told the country's new top economic leader that Beijing needed to "speed up" its work on debt restructuring requests.
World Bank chief David Malpass said on Monday he hoped meetings this week with Chinese officials could help "break the ice" on badly needed debt relief for poor countries.
Yellen has no formal meetings with Chinese counterparts on her schedule, but the U.S. official said officials from the Biden administration and China will continue dialogue "where we're able to."