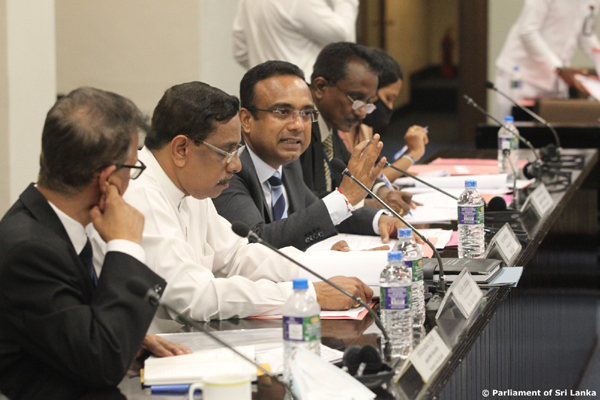 Minister of Labor and Foreign Employment Manusha Nanayakkara announced that steps will be taken to prepare the new integrated labor law to avoid the complexities of the existing labor law.
He made these remarks at the Ministerial Consultative Committee on Labor and Foreign Employment affairs held in Parliament recently (Apr. 25).
Accordingly, the Minister also said that taking opinions and suggestions of all relevant parties including the public will be started from the 2nd of May to formulate this integrated labor law.
The minister further pointed out that the country's industrial law, which is currently scattered and complex, is expected to be converted into an integrated labor law, and it is an essential step to encourage local and foreign investors. Thus, the new consolidated law will facilitate the settlement of disputes between employers and employees. The Minister also said that these new laws will facilitate the convenient start and running of business activities, especially for investors coming to Sri Lanka.
The attention of the committee was also paid to businesses that are not registered in the Employees' Provident Fund (EPF). The Minister pointed out that only 80,000 business companies are registered in the Employees Provident Fund. The MPs stressed that immediate action should be taken against unregistered companies. Accordingly, it was decided to inform all divisional secretaries and local government commissioners in writing to send information about businesses registered in different parts of the island to the Ministry of Labor. Also, the Minister instructed the Department of Labor and the Employees' Provident Fund to submit a plan of possible future actions against such companies within a month.
The Minister instructed the Foreign Employment Bureau to implement a program to educate people about foreign employments. He also mentioned that no special quota has been given to the Members of Parliament regarding the sending of workers to the foreign employments.
The head of the Foreign Employment Bureau said that nearly 90,000 people, including 26,000 unskilled workers and over 60,000 skilled workers, have been sent for foreign jobs recently.