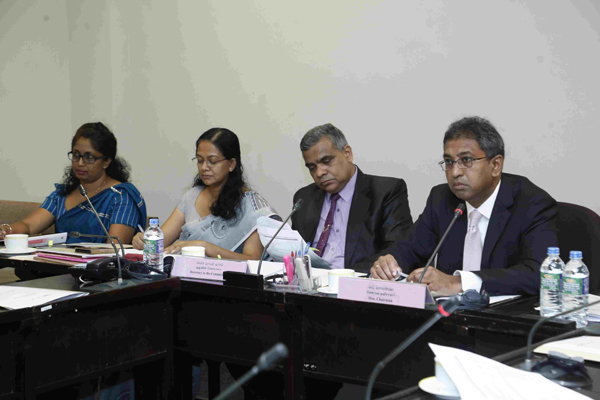 The Committee on Public Finance (COPF) chaired by Dr. Harsha de Silva expressed displeasure over the absence of the officials responsible who had been summoned before the Committee. The Committee was of the view that where matters pertaining to the Ministry are taken up for discussions, heads of the Ministry who are responsible and answerable to Parliament should be present before the Committee in order to proceed forth.
This was stated when the Mid-Year Fiscal Position Report 2023 issued under Section 10 of the Fiscal Management (Responsibility) Act, No. 3 of 2003, by the Minister of Finance, Economic Stabilization, and National Policies was taken up for consideration at the Committee meeting held in Parliament last week.
MoF presented the fiscal status as of the end of June 2023. According to this report, the primary balance of the budget had a surplus of 0.1%. Revenue collection has increased by 41.9% YoY to 1,317 Bn, mainly as a result of the substantial increase in VAT on goods and services. Expenditure for the first half was 2,560 Bn, which witnessed an increase of 40.5% YoY. The biggest increase was in domestic interest expense, which rose by 51.6% to 1,273 Bn in the first half of this year.
The Committee members raised various questions regarding the fiscal position, Economic performance, expenditure, and the performance of the state-owned enterprises based on the statistics presented by the officials present. Key concerns raised by the member of COPF were regarding the 11.5 percent contraction in the first quarter of 2023. The Committee questioned the root causes of such contraction and the specific measures taken to address such root causes preventing further economic downturns
The Committee further questioned the sustainable plan of the Ministry to achieve growth in line with the Hon. President's Vision 2048. Though there was a substantial discussion on the plan for growth to reach a developed country, it was disclosed that there was no coherent strategy.
The Committee was of the notion that the response to the Committee queries by the officials who were present, was ineffective and in lacks clarity. The Committee also queried the increase of taxes due naturally to inflation vs policy changes in taxes.
Whilst expressing the importance of being prepared with adequate data and statistics when presenting before the Committee, COPF also emphasized that the officials of the Ministry of Finance should be more responsible and have a proper vision along with a focused team to achieve the goal of a sustainable economy.