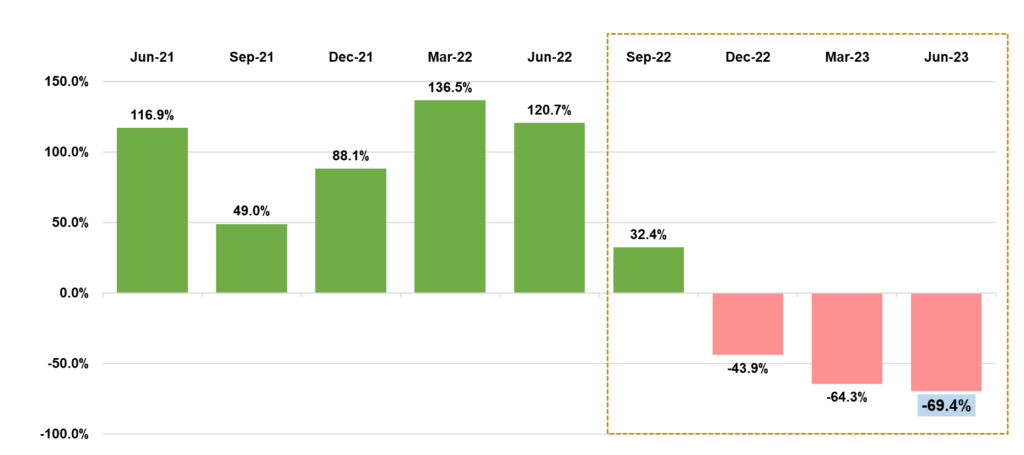 Corporate earnings have reported consecutive YoY degrowth, in this June quarter with macroeconomic challenges pushing earnings to a 3-year low while the banking sector demonstrated remarkable growth. June 2023 quarter earnings experienced a substantial decline for the third consecutive quarter, dropping by 69.4% YoY to a 3-year low of Rs.51.6 billion for 279 listed companies on the Colombo Stock Exchange, according to First Capital Research.
This decline was primarily attributed to the following factors:
-Food, Beverage & Tobacco Sector (-65.4%YoY): Slow recovery in the manufacturing segment and lower disposable income, impacting consumer spending.
-Capital Goods Sector (-108.8%YoY): Driven by high finance and interest expenses, which affected overall
profitability.
-Transportation Sector (-128.3%YoY): Witnessed a substantial decline in earnings, primarily caused by a steep drop in freight rates below pre-pandemic levels.
These sector-specific issues collectively contributed to the overall quarterly earnings decline.
Conversely, there were notable positive contributors during the quarter. The banking sector demonstrated a remarkable growth of 420.4% YoY, followed by the Telecommunications sector which exhibited a substantial increase of 109.3% YoY and the the diversified Financials sector displayed a commendable growth rate of 36.6% YoY