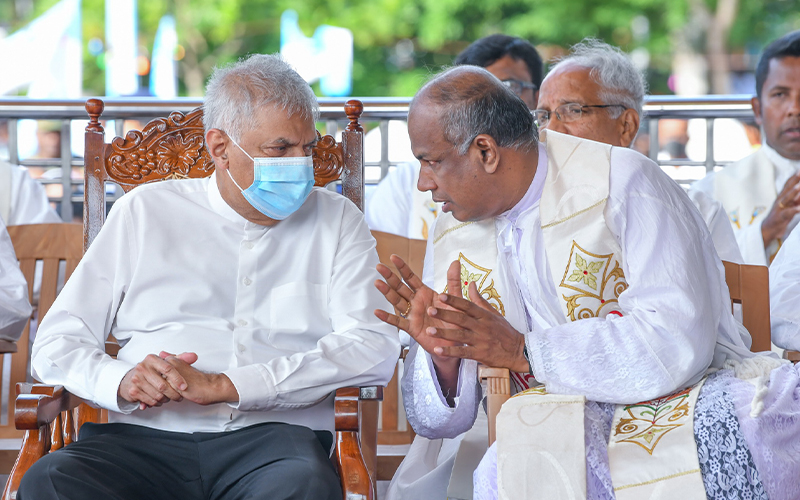 During his presence at the annual festival of the National Shrine of Our Lady of Madhu in Mannar yesterday (15th), President Ranil Wickremesinghe announced plans to transform Mannar into an energy hub.
"The Mannar region, where the National Shrine of Lady Madhu is located, possesses abundant renewable energy resources. With access to solar, wind, and green energies, the Mannar district can be developed into an energy hub.
We have also formulated plans to transform Punarin into an energy city. It is important to note that all these development initiatives are designed to preserve this sacred land and its forests. I have instructed officials to seek advice and guidance from the clergy here during these development efforts," he said/
He also revealed that inter-city express train service between Thalaimannar and Colombo will commence on September 15th aiming at enhancing connectivity and facilitating smoother travel between the two cities.
"An inter-city express train service from Thalaimannar to Colombo is scheduled to commence on the 15th of September. This service is being launched in response to the request of MP Charles Nirmalanathan. Additionally, steps have been taken to establish a sugar factory in Vavuniya, as requested by MP Selvam Adekkalanathan. Cabinet approval has been obtained for this project. These measures aim to facilitate rapid development in these regions," he added.
It is also noteworthy that President Wickremesinghe participated in the morning service of the feast this year.
Subsequent to the main ceremony, a revered statue of Lady Madhu was respectfully carried in procession throughout the church grounds to pay homage to the devoted attendees.
A significant number of devotees from various parts of the island gathered for the annual feast. The year 2024 marks the completion of 100 years since the enshrinement of the revered statue of Lady Madhu. The church management board has decided to hold services throughout the year to commemorate this occasion.
Rev. Dr. Brian Udaigwe, The Vatican Apostolic Nuncio of Sri Lanka, who attended the main service, commended President Ranil Wickremesinghe's statement in Parliament regarding National Peace and Reconciliation. He mentioned that this statement has received the blessings of the Vatican and the Catholic Church.
Rev. Dr. Brian Udaigwe emphasized that religious leaders have a crucial role in maintaining peace and harmony in the country. He also stressed that whether a religious figure divides or unites the country is determined by their own actions.