Adani Green Energy Ltd reports 66% year-on-year growth for H1 FY24
3 min read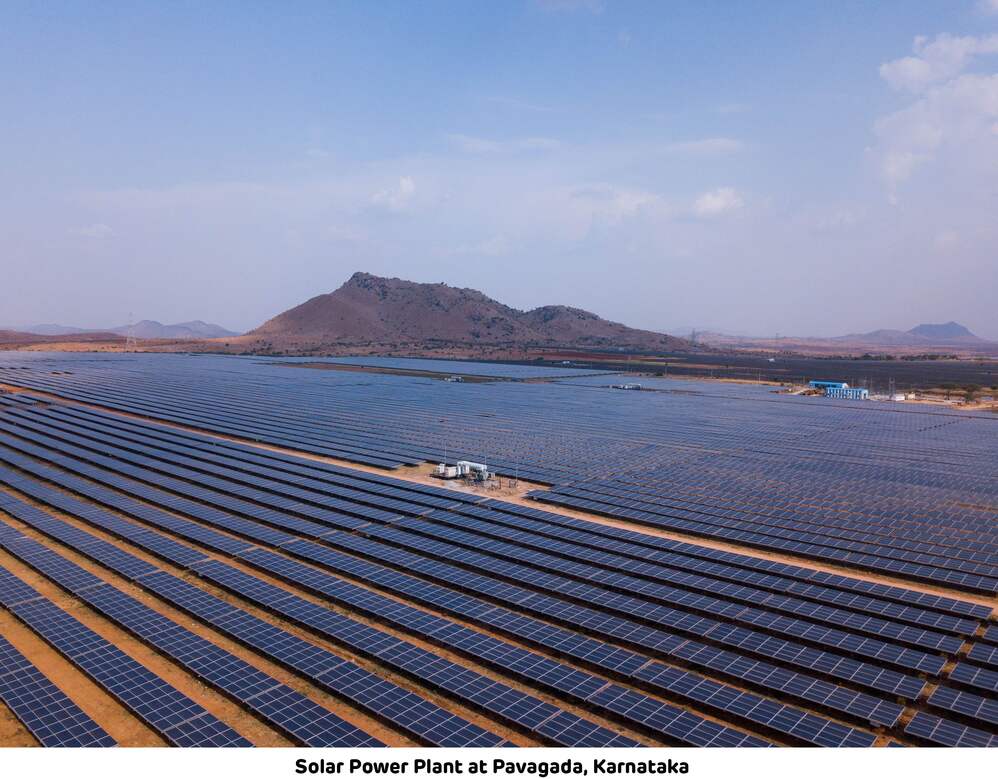 Revenue up to Rs. 4,029 Cr
Operational Performance
Operational Capacity increases by 24% YoY to 8,316 MW with addition of 1,150 MW solar-wind Hybrid, 212 MW solar and 230 MW wind power plants over the last one year
Sale of energy increases by 78% YoY to 11,760 mn units
Solar portfolio CUF stands at 25.2% up by 90 bps, Wind portfolio CUF at 40.2% up by 360 bps, and Solar-wind Hybrid portfolio CUF at 45.4% up by 880 bps YoY
Financial Performance
Industry-leading EBITDA margin of 92.2%
Cash profit increases by 63% YoY to Rs 2,082 Cr
Run-rate EBITDA stands at a strong Rs. 7,645 Cr
ESG
AGEL's Corporate Governance Score upgraded to 7.4, which is in the highest scoring range relative to global peers, in MSCI's latest ESG rating update on 29 Sep 2023
Adani Green Energy Ltd (AGEL), one of South Asia's largest and fastest growing pure-play renewable energy companies, recently announced their financial results for the quarter, and half year ending on 30th September 2023. revenue has increased by a substantial 66 per cent year-on-year to reach Rs 4,029 Crores, reflecting AGEL's remarkable growth in the renewable energy sector. EBITDA (Earnings Before Interest, Taxes, Depreciation, and Amortization) has shown impressive growth, surging by 58 per cent year-on-year to reach Rs 3,775 Crores.
The company's financial performance has shown remarkable growth over the past year, with a significant 63% year-on-year increase in cash profit by 63 per cent year-on-year, reaching Rs 2,082 Crores.. Additionally, the sale of energy has surged impressively, marking a substantial 78% year-on-year increase.
"The performance improvement across the board is the result of our team's relentless efforts. In pursuit of our next milestone to create the largest RE cluster in the world in Khavda, Gujarat, we have already deployed a workforce of 5,000+. At Khavda, we will be installing the most advanced TOPCon solar modules as well as India's largest and one of the most efficient 5.2 MW wind turbine. These efforts will drive us towards achieving the lowest levelized cost of energy." said Amit Singh, CEO, Adani Green Energy Ltd. "Looking ahead, we aim to augment automation in our operations and make every decision even more intelligence driven through extensive digitalization and AI/ ML integration. Our commitment to sustainability and the highest level of governance will remain the foundation of our future growth."
The substantial increase in revenue, EBITDA, and cash profit can be predominantly attributed to the recent addition of 1,592 MW in capacity over the past year, coupled with enhanced Capacity Utilization Factor (CUF). Furthermore, the company's persistent position as an industry leader in EBITDA margin is a direct result of AGEL's exceptional Operations and Maintenance (O&M) practices. These practices have enabled the company to generate more electricity at a reduced O&M cost, showcasing their commitment to operational efficiency and cost-effectiveness.
Additionally, in MSCI's most recent ESG rating update on September 29, 2023, AGEL's Corporate Governance Score received an impressive upgrade to 7.4. This rating places the company firmly in the upper echelon when compared to its global peers, signifying its commitment to exemplary corporate governance practices.
The company aims to sustain its positive trajectory and continue expanding in the years to come, making a meaningful impact on the well-being of its stakeholders and playing a substantial role in advancing ESG initiatives.
Adani Green Energy Limited (AGEL), a part of India-based Adani Group, has one of the largest global renewable portfolios with overall locked-in portfolio of 20.4 GW including operating, under-construction and awarded projects catering to investment-grade counterparties. The company develops, builds, owns, operates, and maintains utility-scale grid-connected solar and wind farm projects. Key customers of AGEL include Solar Energy Corporation of India (SECI), National Thermal Power Corporation (NTPC) and various State Discoms. Listed in 2018, AGEL is a listed renewable company helping India meet its COP26 goals.
ENDS
Photo Caption-