USAID and U.S. retailers pledge to support COVID-hit female garment workers in Sri Lanka
2 min read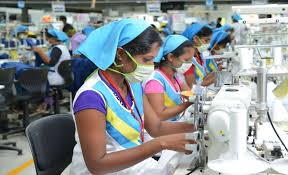 The United States Agency for International Development (USAID) and top of U.S. retail, apparel, and footwear companies agreed to work together to provide relief to the predominantly female workers in their supply-chains in Sri Lanka other Asian countries, who are facing job losses and pay-cuts amidst COVID-19 pandemic.
The USAID, Deputy Administrator, Bonnie Glick announced a new Memorandum of Understanding (MOU) with a consortium of U.S. retail, apparel, and footwear companies and industry associations to pursue much-needed relief to these workers in their supply-chains in Sri Lanka, Bangladesh, Cambodia, and the Vietnam.
Glick last week signed the MOU on behalf of USAID, and the American Apparel and Footwear Association, President and Chief Executive Officer, Steve Lamar signed it on behalf of the consortium.
The participating companies and industry associations includes: Carter's, Inc.; Gap, Inc.; Global Brands Group; Levi Strauss & Company; Nike; Tapestry; Target; VF Corporation; Walmart; the American Apparel and Footwear Association; the National Retail Federation; the Retail Industry Leaders Association; and the U.S. Fashion Industry Association.
"With unprecedented speed and scale, the COVID-19 pandemic has had a devastating impact on global supply-chains, disrupting trade and investment, putting frontline workers at risk, and eliminating the jobs of millions of other workers, especially women," USAID said in a press release.
Sri Lanka's apparel industry projected job losses up to 100,000 dues to the effects of the pandemic and trade unions estimated around 85,000 workers has already lost their jobs in the sector.
The apparel workers are facing further uncertainty of their jobs with the recent outbreak of the COVID-19 disease which has hit operations of several apparel plants with large number of workers catching the virus.
The USAID noted that the apparel, footwear, and fashion-accessories (AFFA) sector in Asia has been among the most-affected industries, challenged by constraints on supply and demand that arose from stay-at-home orders, temporary closures of businesses, stoppages in production, backlogs in shipment, and cargo delays.
The MOU establishes an intent for USAID and the consortium to work together over the coming year to alleviate hardships faced by AFFA workers in Bangladesh, Cambodia, Sri Lanka, and Vietnam. Such efforts, in collaboration with local partners, is aimed to create a more resilient AFFA sector and workforce, enhance the rights and welfare of workers in AFFA factories, and empower women in the AFFA workforce.
Sri Lanka's apparel exports to the U.S. has declined to $1.36 billion up to September this year, compared to $1.75 billion worth of apparel exports during the same period of last year. The U.S. is Sri Lanka's single largest market for apparel exports and Sri Lanka is the 13th largest apparel importer to the U.S. in terms of quantity.