Committee on Public Finance expresses its collective displeasure over the absence of the Colombo Port City Economic Commission officials
2 min read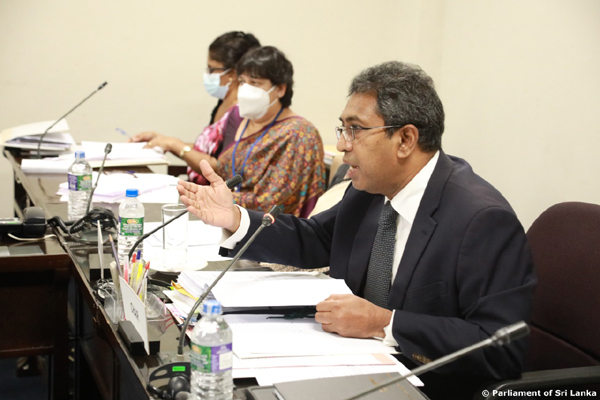 The Committee on Public Finance chaired by Dr. Harsha De Silva unanimously expressed its displeasure over the operations of the Colombo Port City Economic Commission as its senior officials did not appear before the Committee and had not provided proper notice of absence under the due process.
Whilst emphasizing the importance of the Port City project for the purpose of generating investments and the work done thus far, the Committee unanimously expressed their dissatisfaction and advised the officials present that a better sense of responsibility needs to be exercised as professionals handling such projects of importance.
Therefore, the Secretary to the Commission was instructed by the Committee on Public Finance to submit a by way of writing a reasonable explanation as to why high officials to the Commission are not present before the committee when they have been summoned before the Committee on Public Finance on the 21st of December last year.  
This was stated at the Committee on Public Finance held recently under the chairmanship of Dr. De Silva, to take into consideration the Regulations under the Colombo Port City Economic Commission Act, No. 11 of 2021.
The Committee inquired why there was no proper online presence or a website for the Colombo Port City Economic Commission especially in a context where the Commission expects registrations and submission of applications to be done online.
Accordingly, the Committee instructed the Commission officials present, to look into resolving the said matter.
Furthermore, the Committee also inquired about the delay in the submission of audit reports. The Committee directed the commission officials present before the Committee to ensure the expeditious submission of the annual audit reports.