Benin Seeks Sri Lankan Investments in yarn and textile mills
2 min read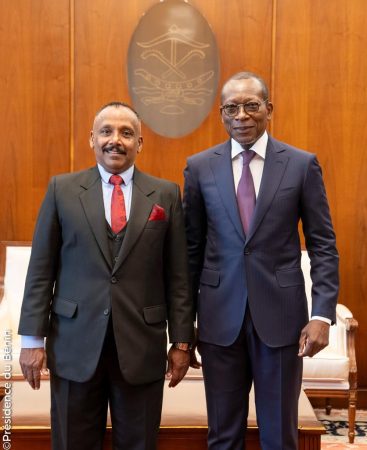 The Sri Lanka High Commissioner in Kenya, Veluppillai Kananathan, who is also concurrently accredited to the Republic of Benin, presented his letter of credence to the President of Benin, Patrice Talon, in Cotonou on June 13, 2023. The credentials ceremony was held at the Presidential Palace. Kananathan was the first Ambassador of Sri Lanka to present Credentials in Benin, which marked a significant milestone in furthering the diplomatic ties between Sri Lanka and the Republic of Benin.
During the private meeting that followed the presentation of credentials, Ambassador Kananathan conveyed warm greetings and best wishes from President of Sri Lanka Ranil Wickremesinghe to President Talon. President Patrice Talon warmly welcomed Ambassador Kananathan and reciprocated by conveying his friendly greetings to his Sri Lankan counterpart.
Recognizing their shared background in business, President Talon emphasized the potential for economic diplomacy and deepening collaboration in trade and investment. He highlighted the favorable investment terms and conditions in Benin, particularly in the energy and apparel industries. President Talon invited Sri Lankan investors to seize the rewarding opportunities available in Benin, specifically mentioning the potential for investing in yarn and textile mills given Benin's status as one of the largest cotton-producing countries in the region and its export of cotton, which accounts for approximately 40% of its exports to the US. He emphasized the market access opportunities under the African Growth and Opportunity Act (AGOA).
Ambassador Kananathan expressed his gratitude for Benin's continued support for Sri Lanka at international forums and reaffirmed Sri Lanka's commitment to fostering closer ties with Benin. As Sri Lanka's Ambassador to Benin, he emphasized his dedication to strengthening bilateral relations through exploring potential avenues such as bilateral trade and investment, ultimately contributing to the socio-economic development of both countries. President Talon assured Ambassador Kananathan of his government's support for enhancing bilateral ties and encouraged close collaboration with relevant authorities.
Benin, situated in West Africa, is renowned for its political stability, favourable investment climate, and commitment to economic reforms. With its growing economy and strategic regional position, Benin presents significant opportunities for foreign investors across various sectors, supported by a business-friendly environment and government incentives.
The Sri Lanka High Commission in Nairobi, Kenya, is concurrently accredited to 23 countries in central, eastern, and western Africa. Additionally, it serves as the Permanent Mission for UN agencies in Kenya, including UN-HABITAT and UNEP.